A licensed nature preschool for 3-5 year olds in Bellingham, WA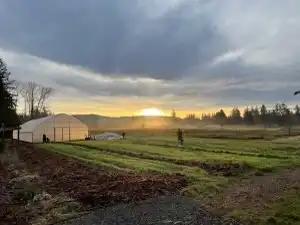 Our purpose is to cultivate an environment where children, families, and community are celebrated and valued through a holistic, nature-based learning experience.
In this work, we value…
Community
We believe that the root of our work is building meaningful, reciprocal, and collaborative relationships with our students, their families, our teaching team, the wider Salish Sea community, and the natural world.
Equity
We believe that culturally relevant, anti-racist, and anti-bias work is essential as early childhood educators and individuals. As an organization, we recognize that we are only at the beginning of this continual learning and unlearning process. We welcome feedback as we attempt to create a truly welcoming, safe, and inclusive space for all children and families.
Joy
We believe that each child deserves and thrives in an environment where they feel safe and joyful. We believe in centering joy through play, exploration, laughter, curiosity, wonder, and a love of learning.
Testimonials
"Our daughter has absolutely thrived in the environment fostered here. So many of the core values that we want her to be raised in are central to the curriculum and everyday practices: inclusion, appreciation of nature, and creativity to name a few. I highly recommend Lichen Early Learning."

Nathanael
"Lichen Early Learning has been so wonderful for our 4-year-old son! This year we have seen his emotional regulation improve, along with listening skills and self-confidence. He has learned how to make friends and expand his imaginative play skills. The teachers are so skilled and kind and very easy to communicate with! There are very clear goals for age-appropriate growth and development of social and emotional skills. The teachers get to know each child individually and make a point of connecting with each caregiver at drop off and pick up! I would highly recommend Lichen Early Learning!"

Kara